the first etoy.AGENTS (zai,pol,tabea) will arrive the
manifesta7
in Bolzano/Bozen tomorrow.
daily updates also on
twitter.com/etoy_TANKS
Posted some digital shots of the binz construction site into the gallery.

More photos to come as soon as the films are processed and scanned...
Welding, grinding, cutting: insulation and metal work for a new office space with windows inside the etoy.TANK-SYSTEM!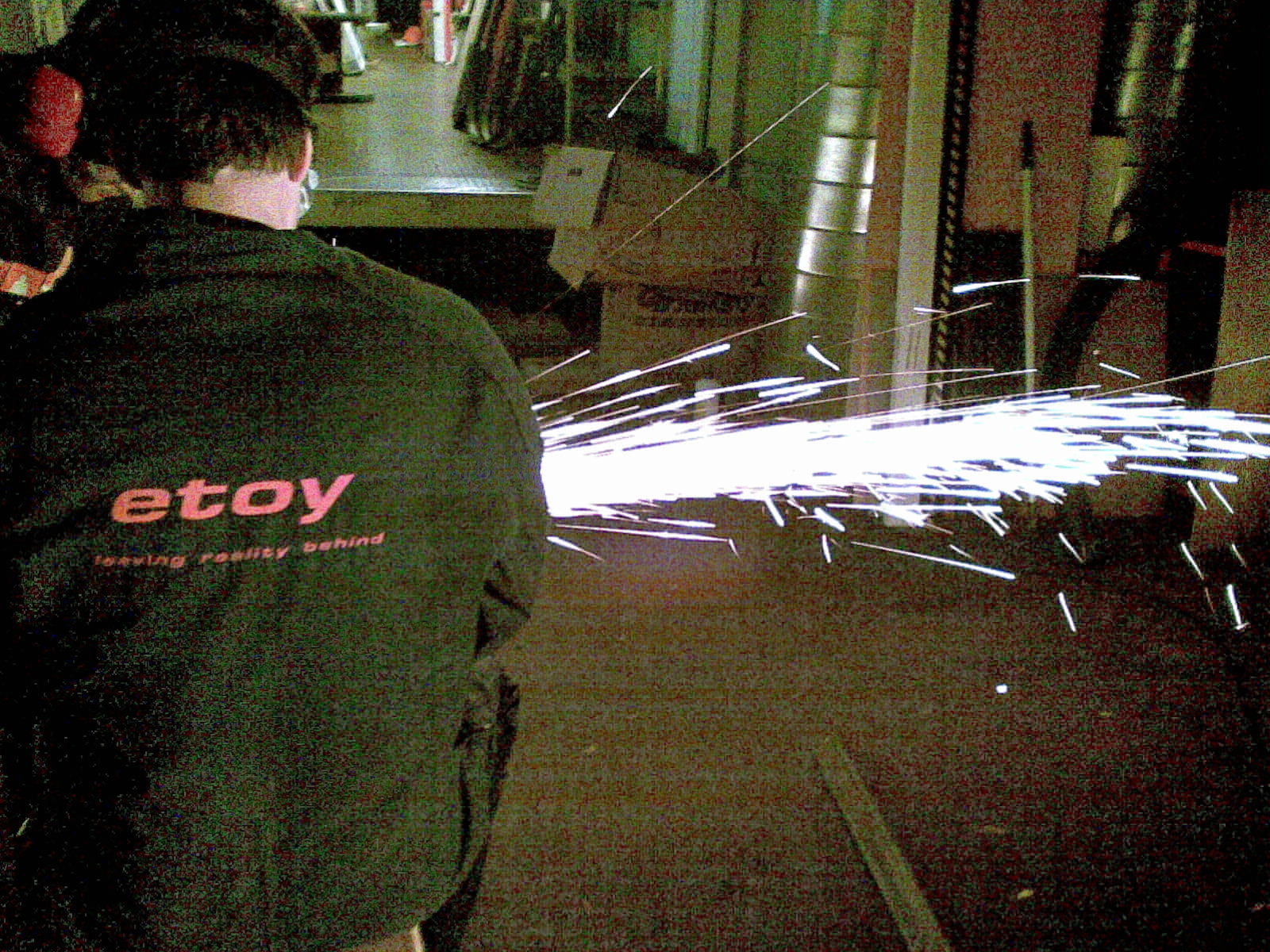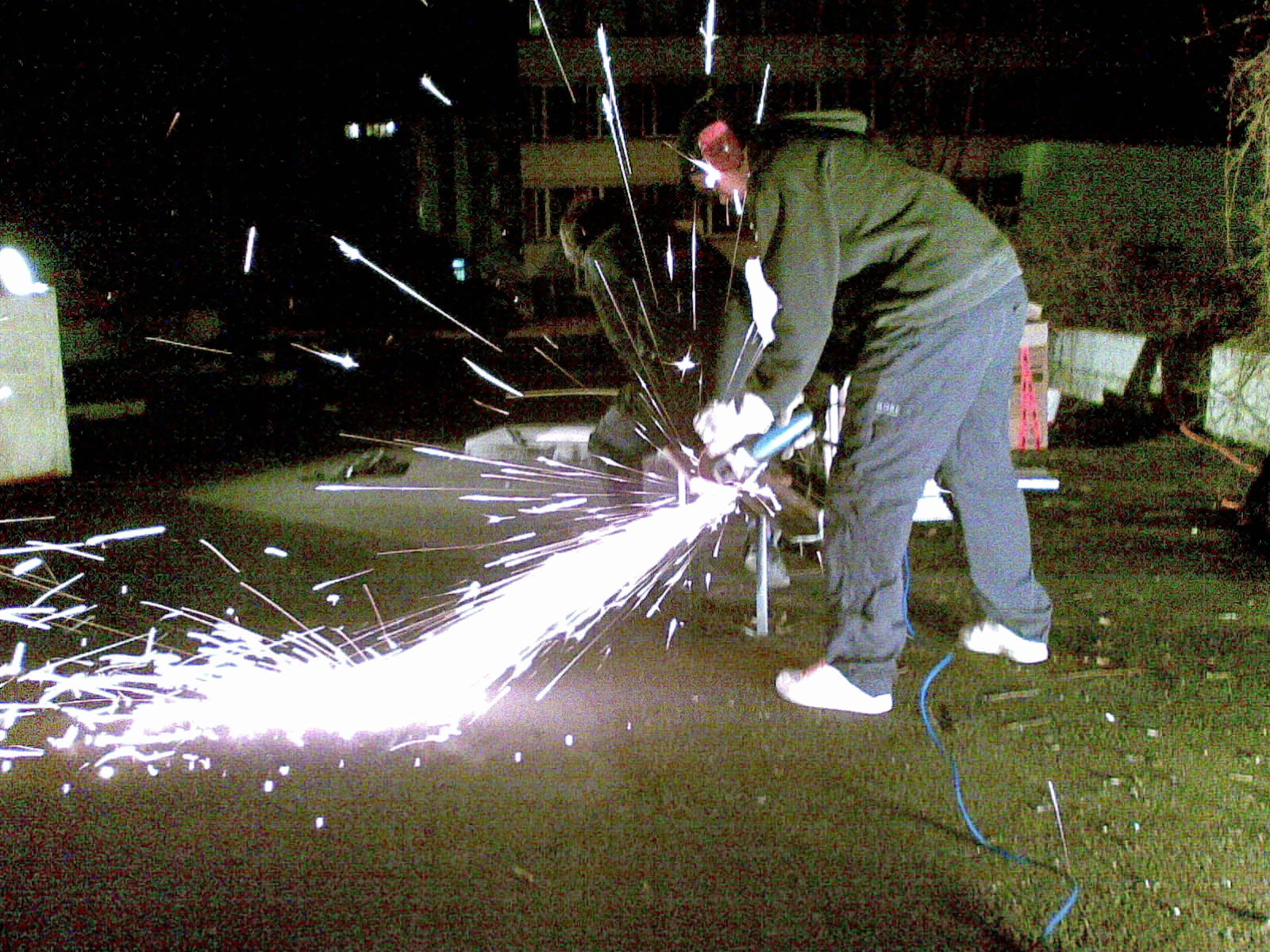 agents GRAMAZIO, SILVAN, ZAI, VINCENT, MAKI, NEWTRON, MONOROM, and ALBERTO in action
Tired of error-prone and badly translated instruction sheets or plans, Arke stairs is shipping an instruction dvd with movies on how to setup their products. In the video, a solid craftsman proves step by step, that the thousand pieces in front of you really can become the staircase you ordered. What an opportunity to load this video-manual to the ipod and carry it along to the construction site in order to directly conduct the advised steps! Even identifying the single elements is a snap, thanks to the carefully shot and labeled elements-sequences for every working stage.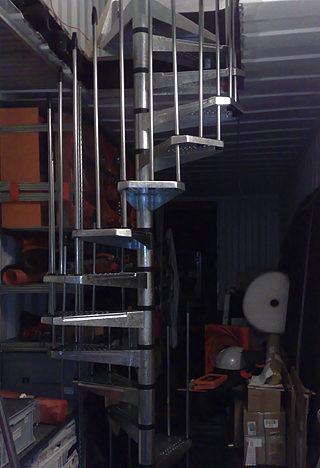 Spacecraft
Fleeting Architecture and Hideout


Featuring the etoy.TANK-PLANT at
MFO park
and the
MISSION ETERNITY SARCOPHAGUS
in San Jose.
From the
publisher's website
:
Spacecraft presents projects that meet the changing spatial needs of our modern lifestyles and that are simultaneously expanding our current understanding of architecture. On the one hand, the book features flexible, fleeting structures that only exist for a limited time. On the other hand, Spacecraft focuses on spaces that are used temporarily. Whether vacation homes, urban hideouts, art projects, pavilions or studios, all of the included work is distinguished by a playful, unconventional use of space.
Editors: R. Klanten, L. Feireiss
Die Gestalten Verlag Berlin
http://www.die-gestalten.de/books/
buchpresentat
Obviously a must have.
Relocation of the etoy tank system successful.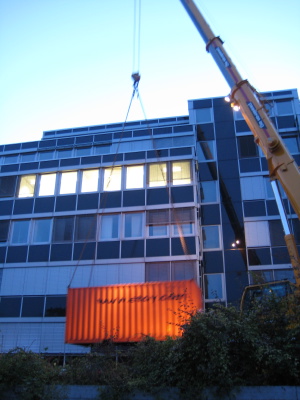 The Economist has an article regarding the future of container vessels.

The currently largest ship, the Emma Maersk, has a capacity of 11000 TEUs (20 foot containers). Future container vessels are planned for up to 18000 TEUs.

Such capacity however implies trouble for the future, since some of the most important canals and shipping routes, let alone ports are not capable to cater to such monsters.

The article is an interesting read and can be found here
dear etoy.INVESTORS & AGENTS,
etoy.MANAGEMENT is proud to announce that another 40 ' High Cube Container was sent off to the etoy.UNIVERSE today. the TANK will be modified and later serves as MISSION ETERNITY SEED ENCAPSULATION TANK in Voelklingen near Saarbruecken. the plan is to inject 5000 to 7500 children into a MISSION ETERNITY SCREENING GRID between May 2007 and April 2008.
modification starts next friday and will be finished on the 2nd of May 2007. a team of two etoy.AGENTS will oversee welding, insulation and wood works within the next few weeks. another 4 etoy.AGENTS install children processing hardware and software in late april 2007.
www.missioneternity.org
IS CROSSING THE DEADLINE.
GERSCSSAL schrieb:
Der von Ihnen bestellte 40' HC Container wird am Freitag, den 09.03.2007 um 10.00 Uhr
Bei folgender Adresse eintreffen:

Anlieferadresse:

Weltkulturerbe Völklinger Hütte
Europäisches Zentrum für Kunst und Industriekultur
66302 Völklingen

Bitte halten Sie eine Abkranmöglichkeit zu diesem Zeitpunkt bereit.
Mit freundlichen Grüßen

Christian Muths
Sales
Star Container Services GmbH
Bremerhaven - Germany
http://www.starcontainer.de