BM diary part 2, Tuesday, August 30th
spent a first night in our tent on a renegade campsite. now taking a first look at black rock city.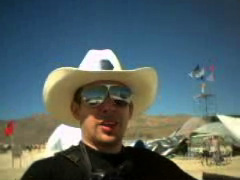 next task: find a permanent campsite and set up our mini-studio.
after stumbling around black rock city for a few hours, we finally run across the fine people from
the artery
who quickly provide us with a spot at
4:45 & 1900
:
ah, yes, and of course made first contact with BM's fascinating
portapotty subculture
.
set up our equipment & lighting and left it for the night.
Comments
No new comments allowed (anymore) on this post.