etoy.INVITATION 9.9.2004 / MFO PARK ZURICH
dear etoy.FRIEND & ART INVESTOR!
we invite you to celebrate the
launch of the etoy.ART-COLLECTION
at this season's investor relations
party: HOW TO SPEND IT.
THURSDAY 09-09-2004 6PM TO 11PM.
(TRAINS FROM ZURICH HB EVERY 10 MIN.)
visit the etoy.TANK-PLANT in the
spectacular MFO park / zurich nord
for a casual etoy.AFTER-WORK-PARTY
MAP and PICTURES:
LINK
cash in on this unique opportunity
to become an etoy.SHAREHOLDER.
...or have an orange etoy.SOUP with
the management, a drink with special
agents, discover new features of the
legendary etoy.TANKS and play the
etoy.PAINSTATION, the first high
value asset in the etoy.ART-COLLECTION.
! fur guys - the masterminds behind
! the painstation - will be present!
CHECK THEM OUT!
MORE INFO: check /
or www.etoy.com (MFO webcam!)
kisses from etoy.CORPORATION!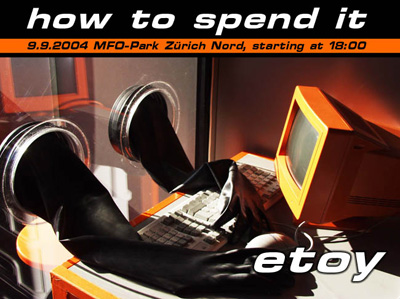 etoy.TIME-BACK-GUARANTEE:
should you not be satisfied with the
event, an etoy.AGENT will perform in
your job on your behalf to compensate
your time loss. etoy.AGENTS qualify
for a broad range of tasks including
social engineering, derivatives
trading, logistics management, sales,
and art production. please contact
investor relations directly:
HAEFLIGER@etoy.com
***
2004 operations of etoy.CORPORATION are based on strategic alliances with TEC-IT, Debian GNU/Linux, LISTA, la claustra, MIGROS, APPLE COMPUTER, IBM, Pro Helvetia, FUNDACION ALTADIS, Mondriaan Foundation, the Netherlands Architecture Fund, AFK Amsterdams Fund for Art, and the labor and money of 2500 individuals (etoy.SHAREHOLDERS and etoy.AGENTS in Europe, the USA and Asia).
***
Comments
No new comments allowed (anymore) on this post.