etoy.ART-INVASION: ARCO art fair, SPAIN (IFEMA, MADRID)
NOT TO MISS etoy on RTVE 2, Friday, 01:30, metropolis.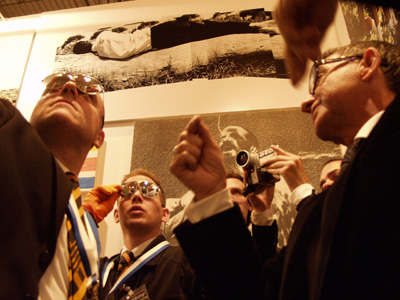 Gallerist Luis Adelantado, Valencia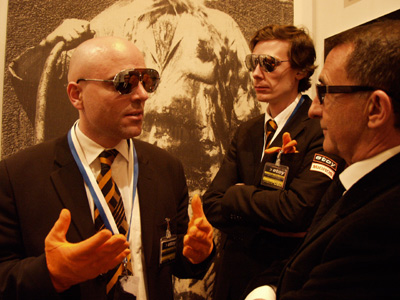 Six etoy.AGENTS arrived at ARCO today, penetrating Hispanic culture. After intense confrontations with security personnel, etoy.CORPORATION attained dealership status at the ARCO art fair, and thus access to one of Europe's most important contemporary art markets. Accompanied by a crew of Spanish national TV (RTVE 2), and corporate as well as press photographers, etoy.SALES-AGENTS entered business contacts with dominant gallerists. etoy.CORPORATION offers certified art dealers a spezial, limited discount on etoy.SHARES in order to promote the private share placement. Only with significant benefits and high sales volumes, etoy.COPRORATION considers an alliance with intermediary services.
The official ARCO public newsletter ABC displays etoy.TANKS on its front page.
Additional coverage: CNN PLUS, Weekend News. Tele Madrid, Weekend, Siete Dias. EL PAIS, EL MUNDO.
Comments
No new comments allowed (anymore) on this post.